A partnership that benefits both
Every time a potential buyer signs up on Graphy using a partner link and makes a purchase, we pay you a commission. This is a 50-50 partnership.
One-time commission component of up to 50% on every successful referral*
The one-time commission is on the collection amount at the time of purchasing Graphy plans.
Recurring commission component of 10% share of Graphy Platform fees*
Recurring commission kicks in only after the 10th successful referral.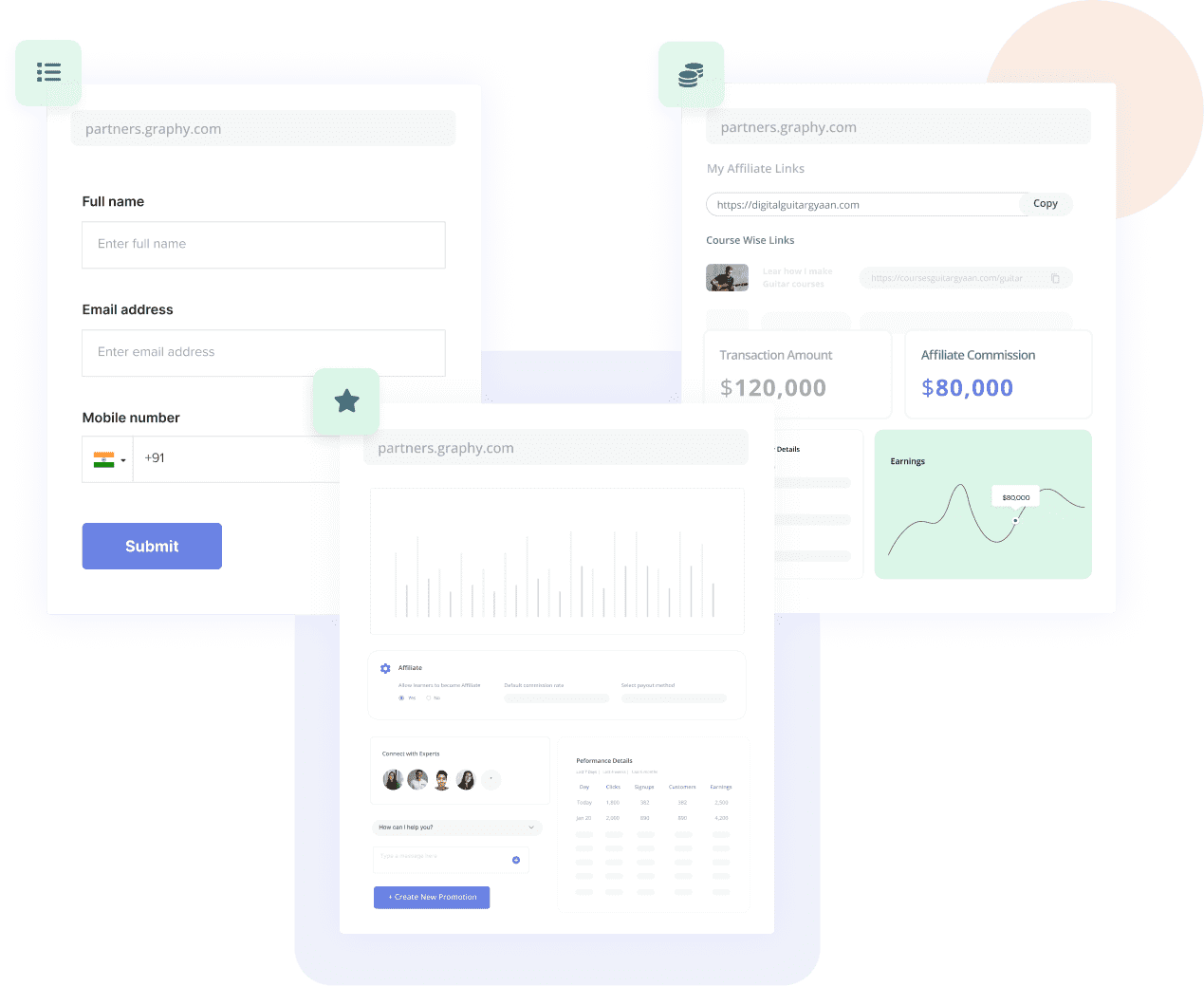 everything you need
How to get started?
Follow the 3 easy steps and voila! You are all set to become an affiliate with graphy.
Register
Register yourself as an affiliate at partners.graphy.com
Recommend
Start recommending the creator's content and you are all set to earn more than just income.
Earn
Earn commissions for the promotions you managed to make for the creator's content.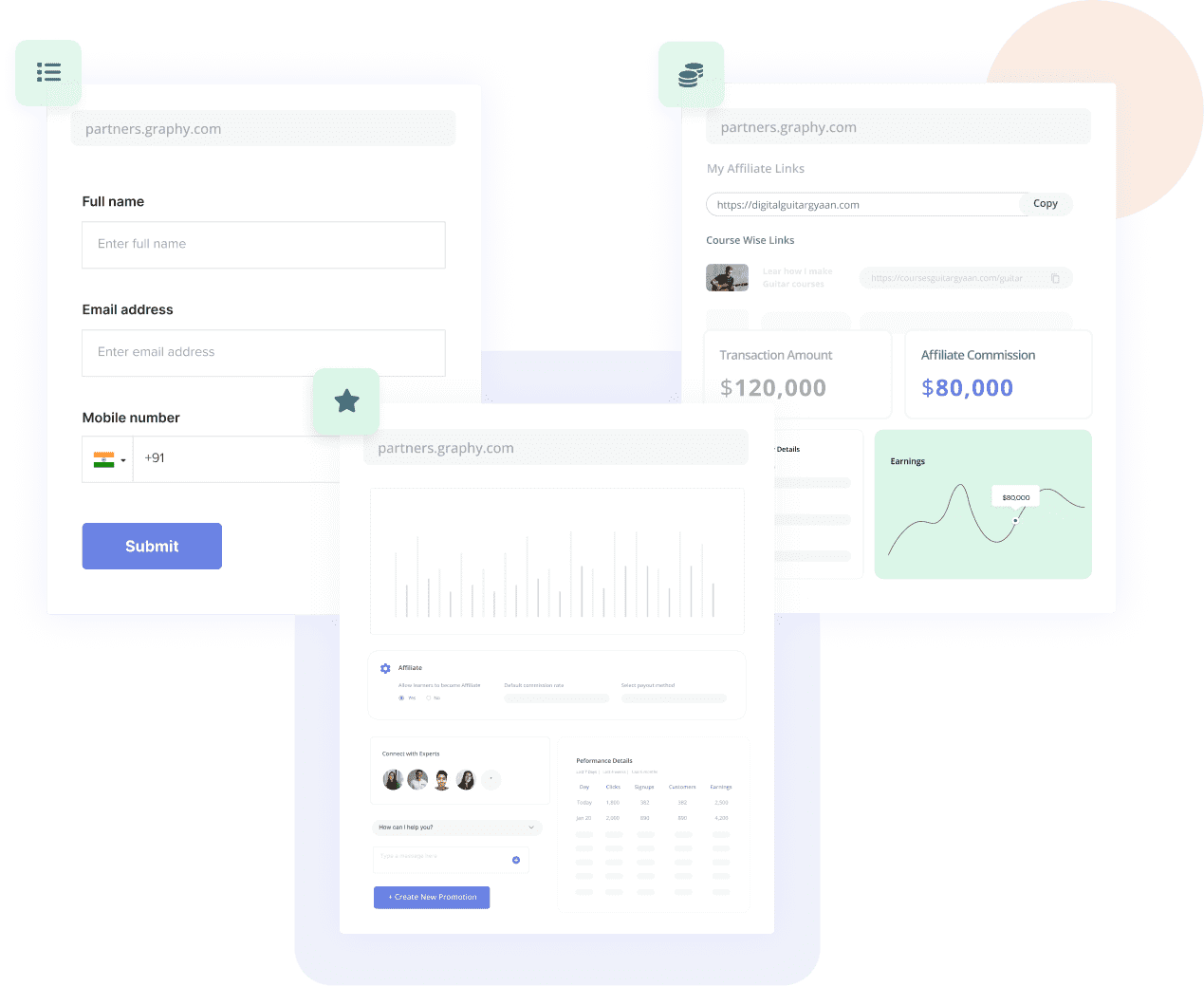 Three reasons why your audience would love us
State of the Art Security
We ensure that a creator's content remains super safe from piracy through our Content protection (digital rights management), Dynamic watermarking, and Device restriction features.
Most Creator Friendly Platform
Graphy enables you to seamlessly launch unlimited live and instructor-led or scheduled drip courses. Moreover, Graphy provides multiple payment gateway integrations, both local and international.
Around the Clock Customer Support
Graphy provides instant support to its customers, no matter the subscription tier they come from. We have a dedicated team who is always ready to support with a call, chat, or email 24x7.
FAQs
We will provide you with a relationship manager to help track your progress and performance. The same will be visible to you on your dashboard as we believe in 100% transparency. We will also be sharing product updates, partner events, and other relevant information over monthly emails to keep you updated.
Once you register, a unique affiliate link will be generated, which you can share with your network. Simply place your link in your product reviews, workshops, events, Social Media posts, and on your website. Each time you refer a new customer who makes a purchase, you earn a commission.
You can expect to earn up to USD 1000 or more. With a 60-day cookie period, you earn upto 50% commission for every activated referral and an additional recurring bonus of 10% share in the Graphy platform fee after the 10th successful referral. Please note our payment cycles are 45 days or a 45- day hold on partner payouts.
Yes, we pay our affiliates once their tally reaches USD 50.
Trusted by the best in the business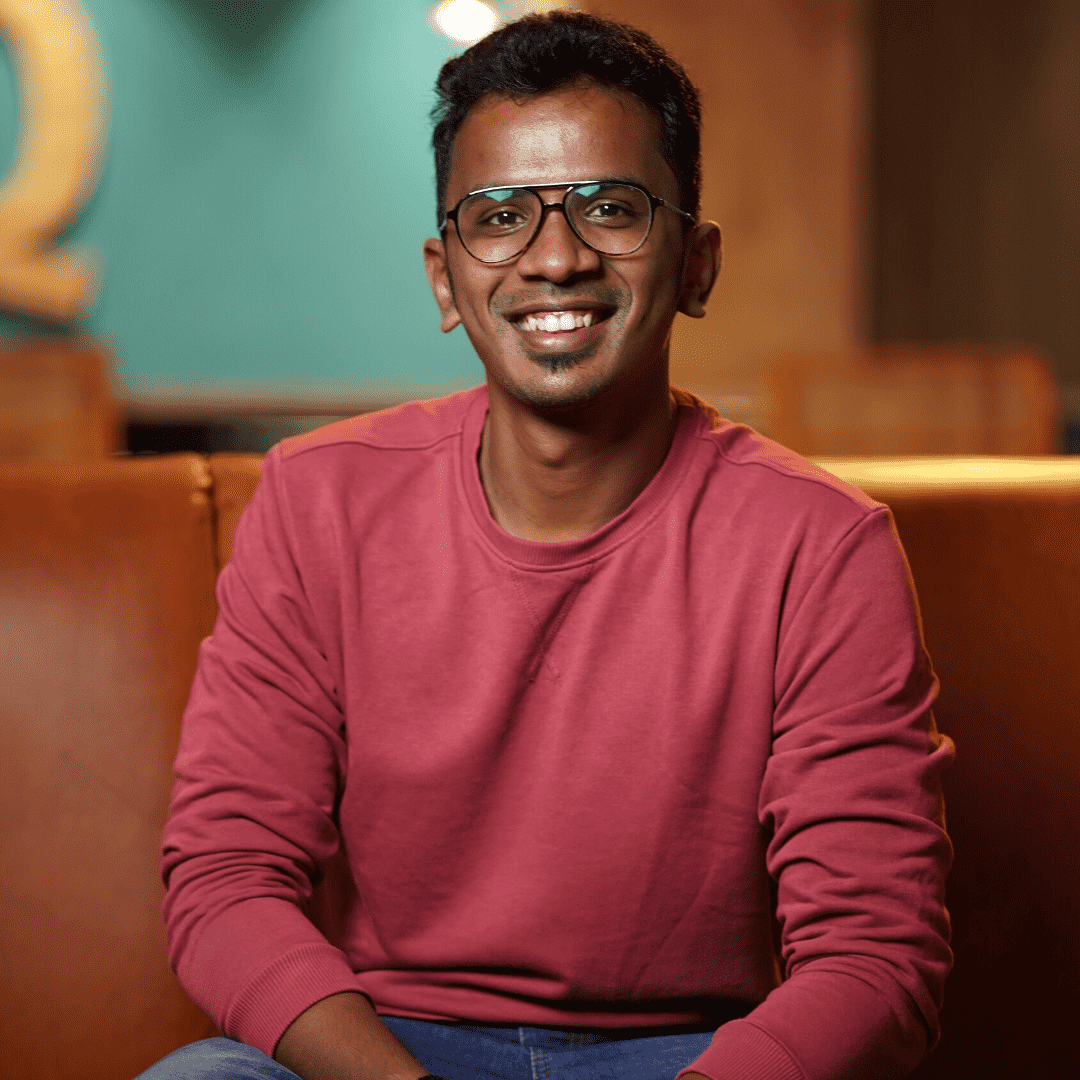 It was not easy to finalize one particular LMS with plenty of options available in the market. I have been training coaches educators for over 5 years now and I can say with confidence that Graphy is the best LMS that we can provide to our students. Right from the first demo, I was pretty amazed by the entire team. Graphy is indeed a platform that I would recommend even in my sleep!
Nirmal Chandran
COO
LifeWheel